A Radical Right-Wing Dream To Rewrite The Constitution Is Close To Coming True
A Radical Right-Wing Dream To Rewrite The Constitution Is Close To Coming True
Sierra Voices Editor's Note: This is the first of two partially excerpted articles today on the same subject, the right-wing effort to rewrite the Constitution, a prospect which should frighten every American who has even the most rudimentary understanding and appreciation for our founding document. Our democracy has never been in greater danger than it is now (The Trump-provoked January 6th insurrection should already have made that clear. This is more evidence).
It could lead to a dramatic overhaul of the nation's foundational text … or an all-out constitutional crisis.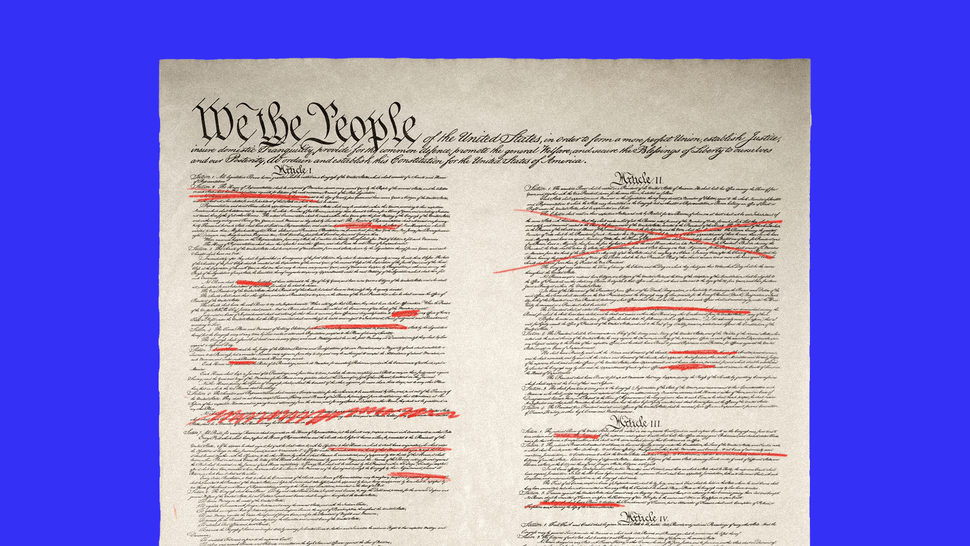 Six weeks before Donald Trump won the 2016 presidential election, more than 100 state lawmakers gathered in Williamsburg, Virginia, for a week of Founding Fathers cosplay. Their task, over three days in the town that bills itself as a living museum to America's colonial period, was to approve a dramatic overhaul of the United States' foundational text.
The lawmakers, nearly all Republicans, ratified six new Constitutional amendments: They imposed term limits on members of Congress, abolished the federal income tax and placed severe limits on the federal government's ability to levy taxes, implement new regulations or spend money. While the rest of the country focused on the presidential election, the Virginia gathering partied like it was 1787.
"The events at Williamsburg will be remembered as a turning point in history," Michael Farris, a co-founder of the Convention of States Project, the conservative group that organized the event, said as the mock convention closed.
That may have been a comically grandiose statement at the time. But nobody should be laughing today. The project to overhaul the Constitution is much closer to fruition than most people realize.
Since 2014, the Convention of States Project and other conservative groups, including the American Legislative Exchange Council (ALEC) have helped persuade lawmakers in 15 states to pass resolutions that call for a new constitutional convention.
Led by a prominent right-wing activist ― former Tea Party Patriots founder Mark Meckler, who is also the current acting CEO of Parler, a social media platform popular on the right ― the Convention of States Project has spread the gospel of a convention to an increasingly radical audience. This year, lawmakers proposed 42 Convention of States resolutions in at least 24 new states, according to the Center for Media and Democracy, which has long monitored the convention push.
The passage of those resolutions would trigger the provision in Article V of the Constitution that allows a convention to be called if 34 states demand it. Backers of another resolution ― one that calls for a Balanced Budget Amendment ― have begun to argue that they have already reached that threshold. And last year, former Wisconsin Gov. Scott Walker (R) began pushing Republican officials to sue Congress in an effort to force a convention call.
"I think if [Republicans] win the midterm elections, if they take the House and Senate, they will try to call an Article V convention immediately," said David Super, a Georgetown University law professor who has closely followed the movement for a new convention. "It's not a foregone conclusion that the simple Republican majority would get there, but if they get big majorities, I think they'll try."
Any civil rights, any constitutional protection in the Constitution could be up for grabs in this constitutional convention.Jay Riestenberg, Common Cause
That has set off a furious tug-of-war between the groups and lawmakers that want a convention and those desperate to stop it. Almost as quickly as advocates have introduced new resolutions in key states that could tip the balance their way, opponents have mobilized to persuade other legislatures to repeal their existing calls, tipping it right back.
Primarily a conservative effort now, the prospect of a convention excites elements of both the right and left who see it as a useful way to improve a broken and dated founding document, check the powers of Congress, and work around the influence of special interest groups that have derailed popular policies, be they a limit on corporate campaign contributions or fiscal restraints on the feds.
Opponents, on the other hand, see a far more nefarious plot: a master class in astroturfing that could open the entire document up to a radical rewrite meant to serve the right-wing corporate interests that already dominate our politics, especially at the state level. The convention, they argue, could lead to the demolition of everything from the social safety net and environmental protections to civil rights laws. Or maybe even the Constitution itself.
"The First Amendment, the 14th Amendment, the 15th Amendment," said Jay Riestenberg of Common Cause, a liberal group that campaigns against the calling of a convention. "Any civil rights, any constitutional protection in the Constitution could be up for grabs in this constitutional convention."
For others, the fear is less about what the convention could accomplish than what might happen simply because it takes place. An untested process will likely face questions about its legitimacy from the start. And in a fractured nation where a substantial number of Republican voters falsely believe the last election was invalid, a messy or deadlocked convention could lead to an all-out constitutional crisis that would make the democratic catastrophe that occurred on Jan. 6 look tame in comparison.
"We shouldn't want to go down that road, especially now that we've just had an experience of how dangerous and unpleasant it is to get close to a constitutional legitimacy crisis," said Walter Olson, a senior fellow at the Cato Institute who has long warned against the convention effort.
Read the full article on the Huffington Post here:
"A Radical Right-Wing Dream To Rewrite The Constitution Is Close To Coming True"