6-year-old Palestinian dies after Israel denies him Access to Treatment outside Gaza
6-year-old Palestinian dies after Israel denies him Access to Treatment outside Gaza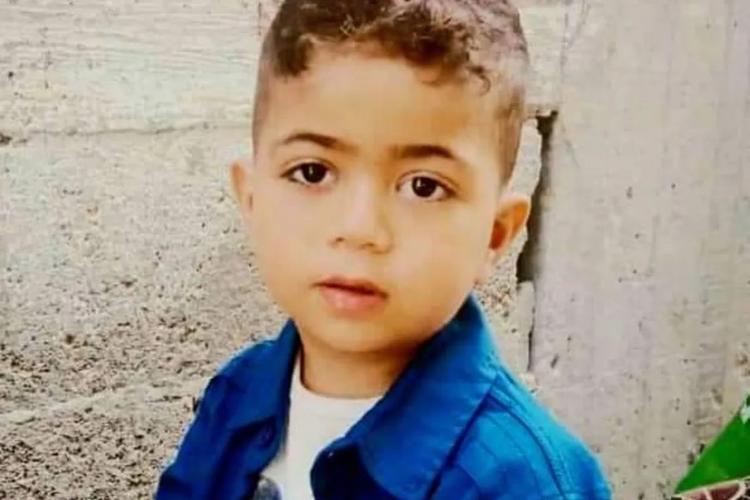 By Wafa Aludaini | –
( Middle East Monitor ) – A press release issued by Al-Mezan Centre for Human Rights condemned the discriminatory restriction on movement and the arbitrary permit system imposed by the Israeli occupation on Palestinian patients obstructing their access to hospitals outside Gaza.
We tried all possible ways to treat him, but all the doctors informed us that there is no cure for him here, in Gaza
Farouq's grandmother says.
The family presented documents to the Israeli occupation authorities to obtain permits to leave the besieged enclave through the Beit Hanoun (Erez) Crossing. Their request was denied after the occupation said it had carried out an "investigation" and determined there were "security reasons" why the child could not leave Gaza for treatment.
Farouq's father holds a permit allowing him to leave Gaza each day to access work in Israel, however this did not afford the family any protection from the arbitrary accusations of "security threats".
"What threat does this six-year-old child pose to Israel for it to ban him?" Farouq's grandmother asks. There is no justification for the denial of the exit permit, she adds, except to torment the family.
"He should have unhindered access to the health care he needed, because these are his inalienable rights as a child and as a patient."
Al-Mezan has documented that since the beginning of 2022, four patients – including three children – have died following Israel's unjustified delay and denial of requests for exit permits. Earlier this year Physicians without Borders revealed that the number of minors who had been denied access to medical treatment outside of Gaza in 2021 had nearly doubled when compared to the previous year. Some 32 per cent of applications were refused last year, a Freedom of Information request found, according to the organisation.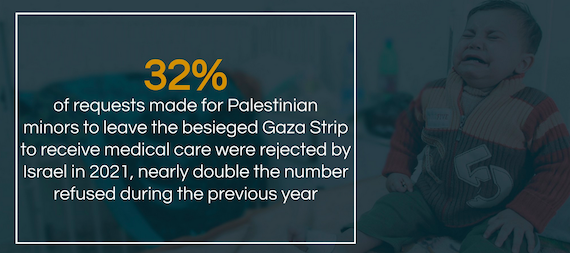 The spokesman for the Ministry of Health in Gaza, Ashraf Al-Qudra, says the occupation practices racism and discrimination against Gaza's patients as part of its policy which aims to undermine the health system by preventing medical delegations entry into Gaza and obstructing the entry of consumables and medicines.
"Israeli policies have worsened the health situation of about 32 per cent of minor patients who are denied treatment in hospitals inside [within Israel], and about 36 per cent of elderly patients who need urgent surgeries."
In a monthly report in July, the World Health Organisation (WHO) said "64% of the 1,619 patient applications to cross Beit Hanoun/Erez in July 2022 were approved", adding that the remaining 36 per cent had been delayed during that month. "Just under a third (30%) of applications were for children under 18 and close to a fifth (19%) were for patients over 60 years old," it added.
"11 patients from the Gaza Strip were requested for security interrogation in July… One patient of the 11 (9%) were approved permit after interrogation and 10 (91%) remained pending under study."
As a result of the continuous Israeli blockade which is now in its fifteenth year, the health sector in Gaza suffers from a severe shortage of medicines and medical consumables, in addition to difficulty performing many specialised surgeries. Palestinian officials have warned that the siege has left the healthcare system on the verge of collapse.
Inshirah Al-Madani, 16, is another victim of the systemic arbitrary Israeli procrastination. She is still waiting for approval to complete her cancer treatment after she was diagnosed in 2014. Inshirah needs to travel to the occupied West Bank to treat the tumor in her head and eye. Occupation authorities banned her from accessing treatment through the Erez Crossing, delaying her treatment and causing her condition to worsen.
"Doctors say that cancer has metastasized," Inshirah's mother Samah says, adding that her daughter's health has deteriorated to the point where she has now lost sight in her eye.
"The absence of treatment, and the need for $50,000 to provide treatment for my daughter aggravated her condition and caused her further pain," Samah says. " I am asking everyone responsible to help my daughter before it's too late."
Appealing for the international community to help her and other Palestinian patients to access the medical care they need, Inshirah says: "I dream of finishing school and going to university."
"I don't want to be the next Gazan patient to die."
"The policy of denial constitutes a grave violation of the rules of international humanitarian law, which obligate the Israeli authorities not only to allow patients to reach their hospitals, but also to ensure that medical treatment is provided to the same extent as it provides to its nationals," Al-Qudra says. He stressed that Israel is violating the provisions of the Universal Declaration of Human Rights, which guarantee freedom of movement, as well as the two international covenants, one of which pertains to civil and political rights, and the other to economic, social and cultural rights.
---
Wafa Aludaini is a Gaza based journalist.
The views expressed in this article belong to the author and do not necessarily reflect the editorial policy of Middle East Monitor or Informed Comment.
Featured image: Six-year-old Farouq Mohammed Abu Naja died in the Gaza Strip after Israeli occupation authorities denied him access to medical care at Hadassah Medical Centre in occupied Jerusalem in August 2022.
This work by Middle East Monitor is licensed under a Creative Commons Attribution-NonCommercial-ShareAlike 4.0 International License.