Eat at Summer Thyme's Restaurant and Money is Donated to Wolf Creek Community Alliance
Eat at Summer Thyme's Restaurant and Money is Donated to Wolf Creek Community Alliance
By Don Pelton (Board Member of the Wolf Creek Community Alliance)
Dear Friends of Wolf Creek:

Here's a great way to have some fun and trigger a contribution from Summer Thyme's Restaurant to the Wolf Creek Community Alliance (without spending an extra cent of your own)!
Drop by Summer Thyme's Restaurant at 231 Colfax Avenue in Grass Valley and have something to eat, ask the cashier for some wooden nickels when you order (you'll get one "nickel" for every $5 you spend) and drop them in the donation box below the Wolf Creek Community Alliance poster (see picture below). Based of the number of "nickels" in the donation box, Summer Thyme's will donate a percentage of their profits to WCCA.
This offer is good for every visit you make to Summer Thyme's from now through June.
Wooden Nickels (in front of register):


Poster: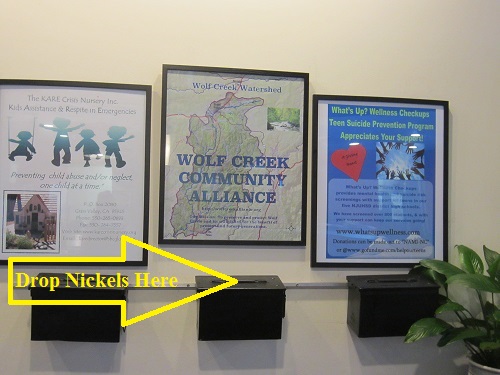 Yum!






Here's the Complete Summer Thyme's Menu:  http://www.summerthymes.com/menus/